Agincourt Mall hosts some great events, follow us on Twitter, like us on Facebook and/or sign up for our newsletter so you don't miss out!
2020 January Event
Let's celebrate the Lunar New Year together! Come join us on Saturday, January 25, 2020 from 12pm-2pm for a fun filled celebration with on stage performances, Lion Dance, and the God of Fortune at the photo booth. Make sure to keep your eyes out for audience interaction time during the on stage performances, as the MC will be giving out prizes to a lucky few in the audience.
🎵🎶HERE COMES SANTA CLAUS🎵🎶…..HERE COMES SANTA CLAUS….🎵🎶
This year, Santa Claus will be at Agincourt Mall along with Mrs. Claus and the Elf on Saturday, November 23 from 12:00pm – 5:00pm. Come on down to snap a *FREE photo with the jolly old Saint Nick at his chair. While you are here, don't forget to spread the love by donating a new unopened toy to our toy drive in association with Toy Mountain for The Salvation Army Toronto.
For each toy you bring in to our donation bin, you will get a ticket to enter into our hourly draw for amazing gifts. The more toys you donated, the higher your chances will be. Draws will happen every hour between 1:00pm-5:00pm, and you must be present upon the call out of the draw to receive the prizes.
2019 Summer Events
Mark your calendar, as our Summer Night Market will begin one week from today. This year, we have new vendors, new performances, and definitely do not forget about our daily contest for your chance to win a $200 Visa gift card.
Agincourt Mall will also be giving out FREE welcome gifts each day of the event to the first 500 attendees (while quantities last).
Please follow our event page for more details.
https://www.facebook.com/events/1268815476602556/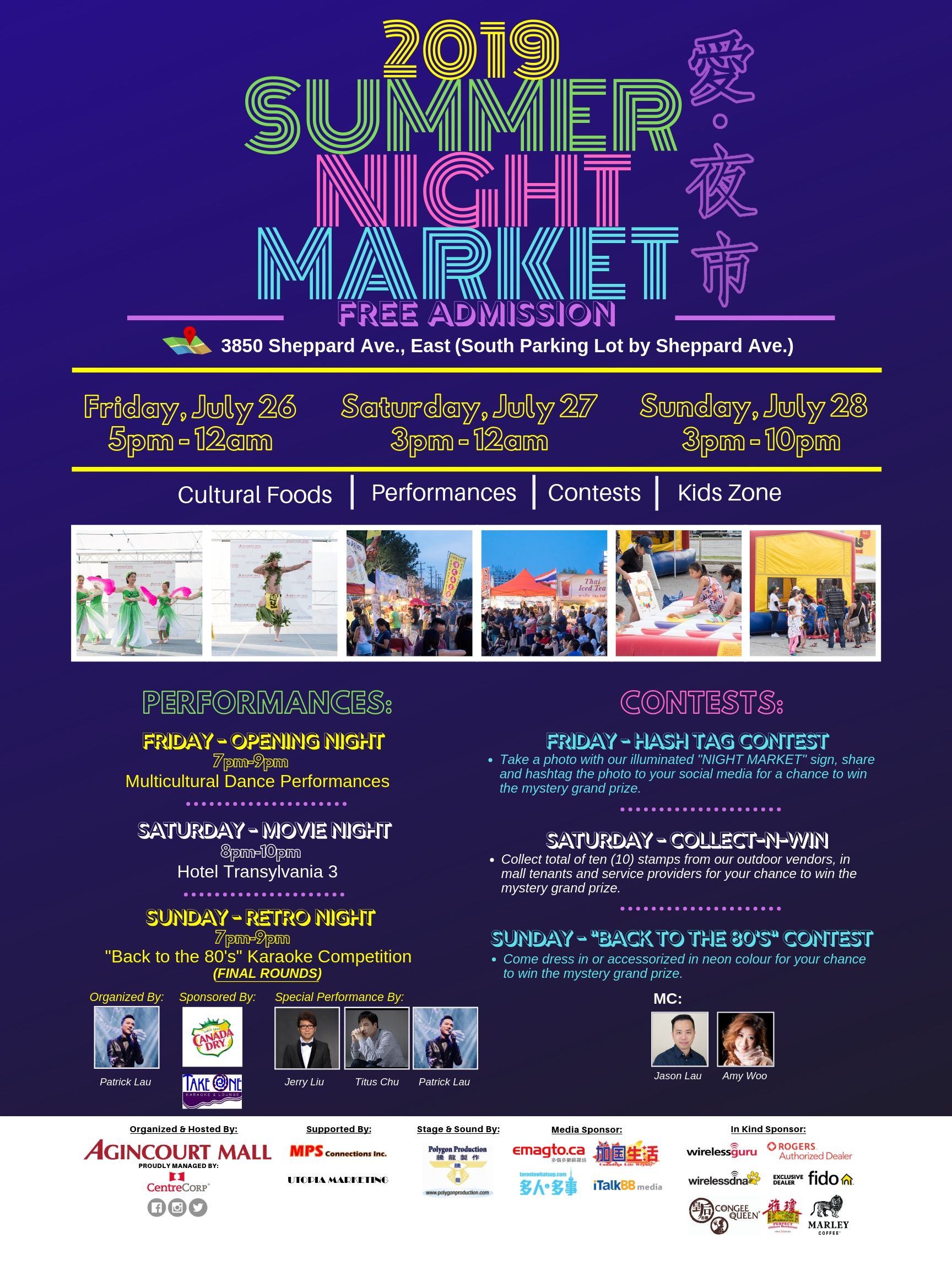 January 2019 Events
It is time to celebrate the Lunar New Year at Agincourt Mall. Mark your calendar for Saturday, February 2 from 1:30pm – 4:30pm and come celebrate this festivity with the Agincourt community. We have all sorts of performances and prizes all lined up, and do not missed your opportunity to find out more information about the Reinvent Agincourt Mall project. Make sure to sign in at their information booth, because there is a Grand Prize to be won at the end of the event.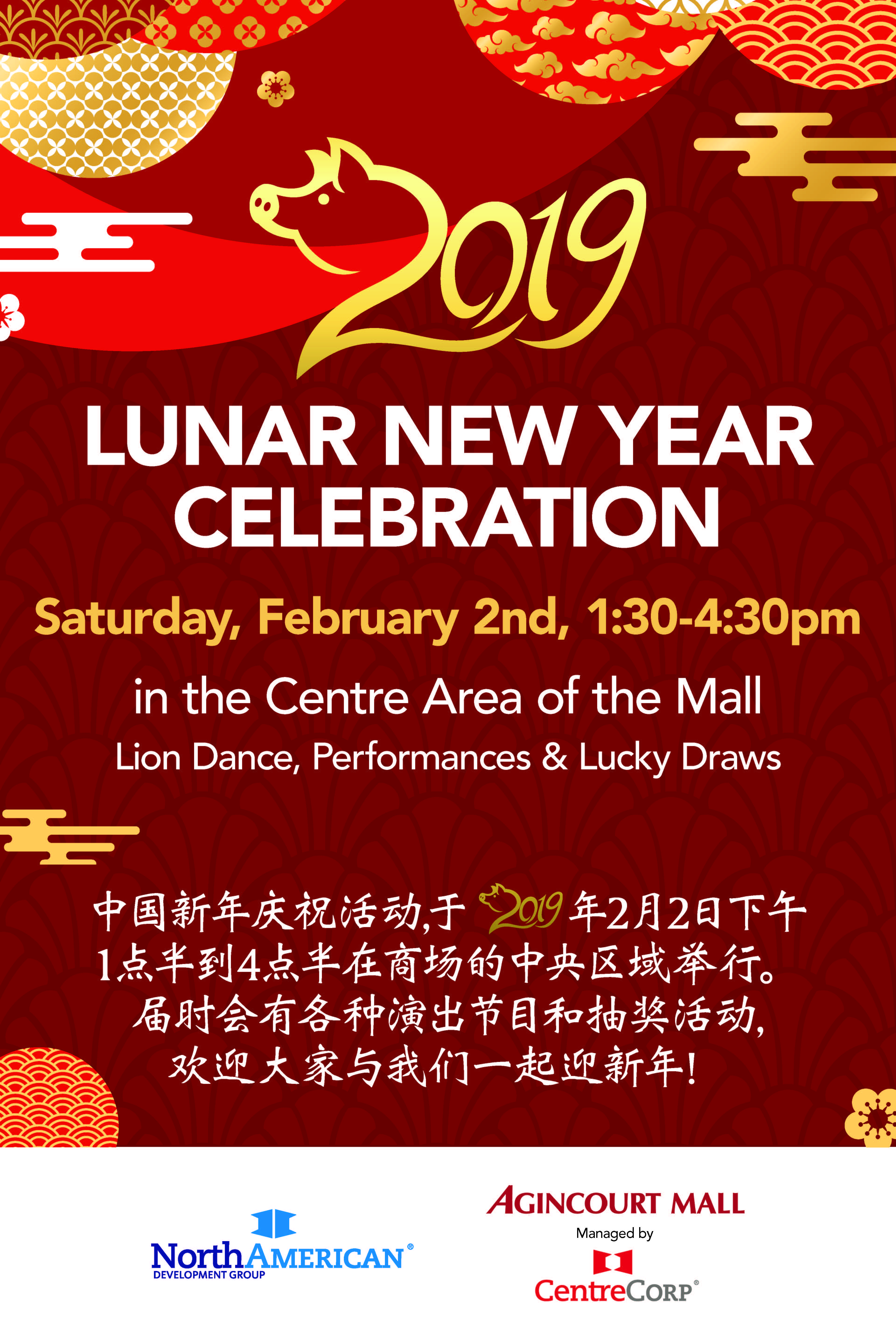 November 2018 Events
Come meet with Santa and Mrs. Claus this Saturday, November 24 between 1:00pm – 5:00pm. There will be performances and kids activities all lined up for the day. While you are here, do not missed out on the one and only chance to take your photos with Santa and Mrs. Claus. This year, we will be supporting Toy Mountain on their toy drive. Bring in a new unwrapped toy for donation, and we will give you a free printed photo to take home after your photo at our Santa's Booth. This is so exciting, we can't wait to see you all on Saturday!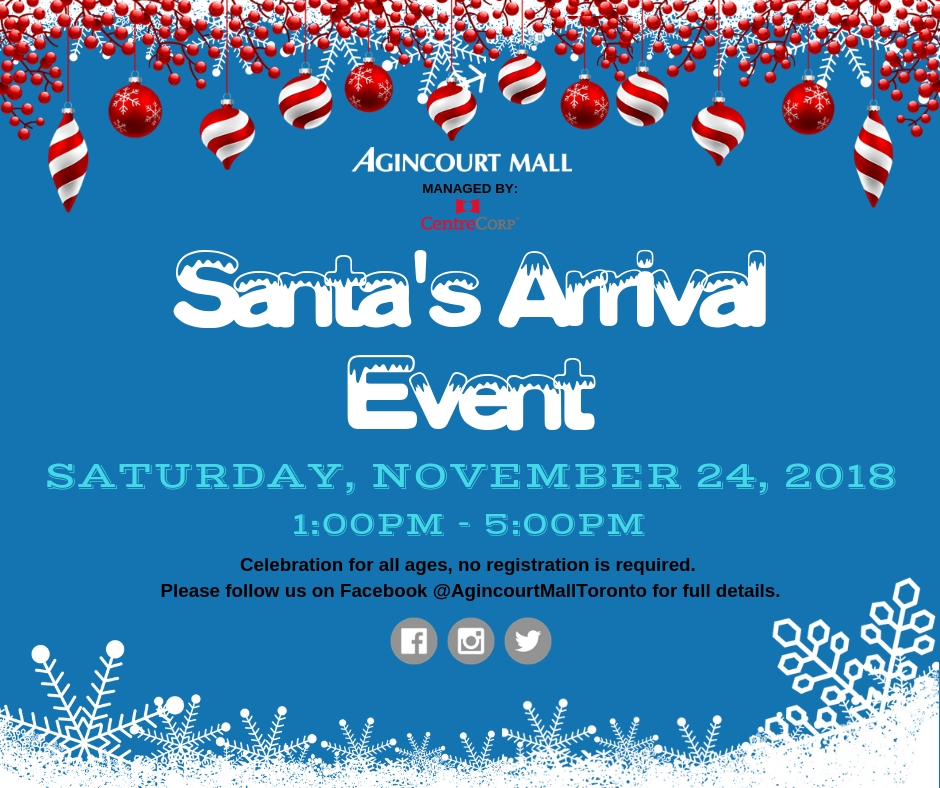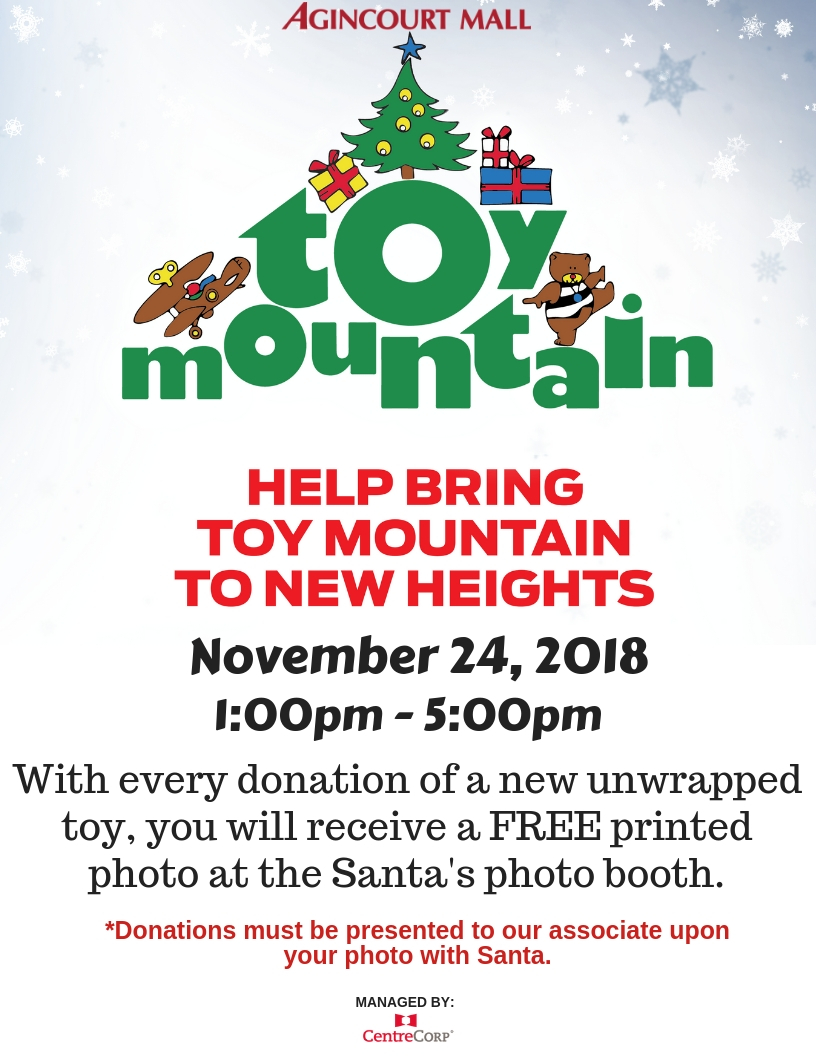 October 2018 Events
As we are stepping into October, that means Halloween is just around the corner. Come join us for a night of Halloween fun with a indoor screening of "Goosebumps" on Sunday, October 28, 2018. The movie will begin at 6:30pm, and doors will be open for check in at 6:00pm.
This event is FREE for the entire family, but RSVP is required. Please submit your RSVP to info@agincourtmall.com by October 19, 2018, with your full name and the number of adults and child attending. As this will be a casual event, we encourage you to bring your own lawn chairs or blankets for sitting. Costumes and PJs are welcome.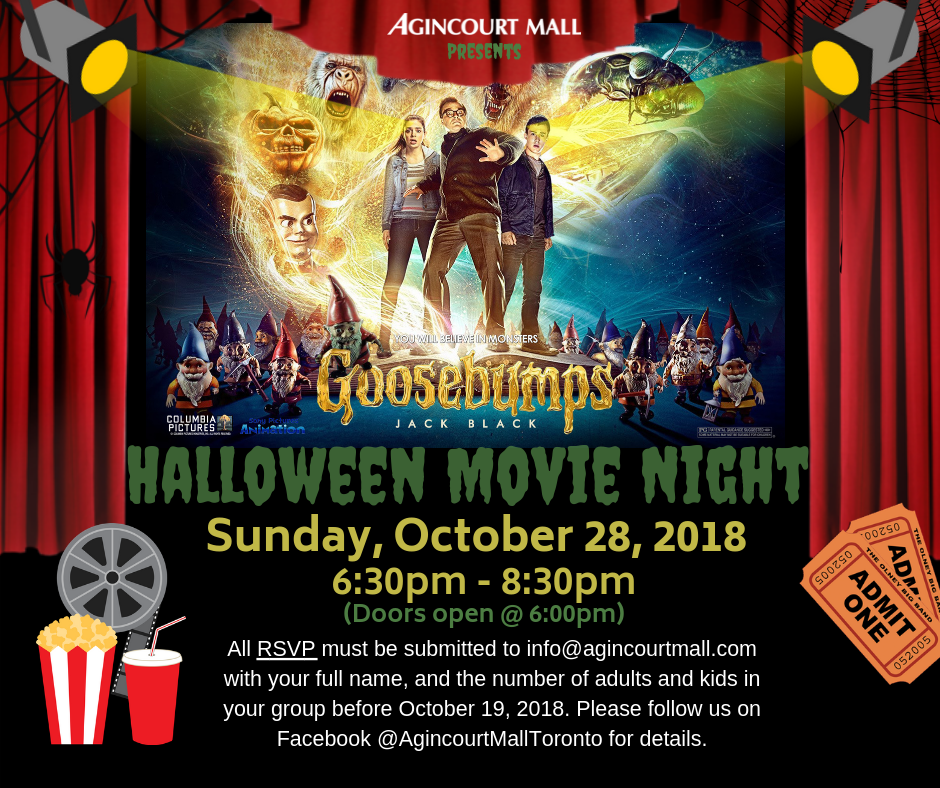 August 2018 EVENTS
Summer Fun at Agincourt Mall is back this year! Every Wednesday in August, we will have different activities line up for you, so come see us between 1:00pm – 3:00pm. Don't forget to come early to register, as quantities are limited, it will be first come first serve basis. For more details, please follow us on Facebook @AginourtMallToronto, as we will be providing detail updates every week.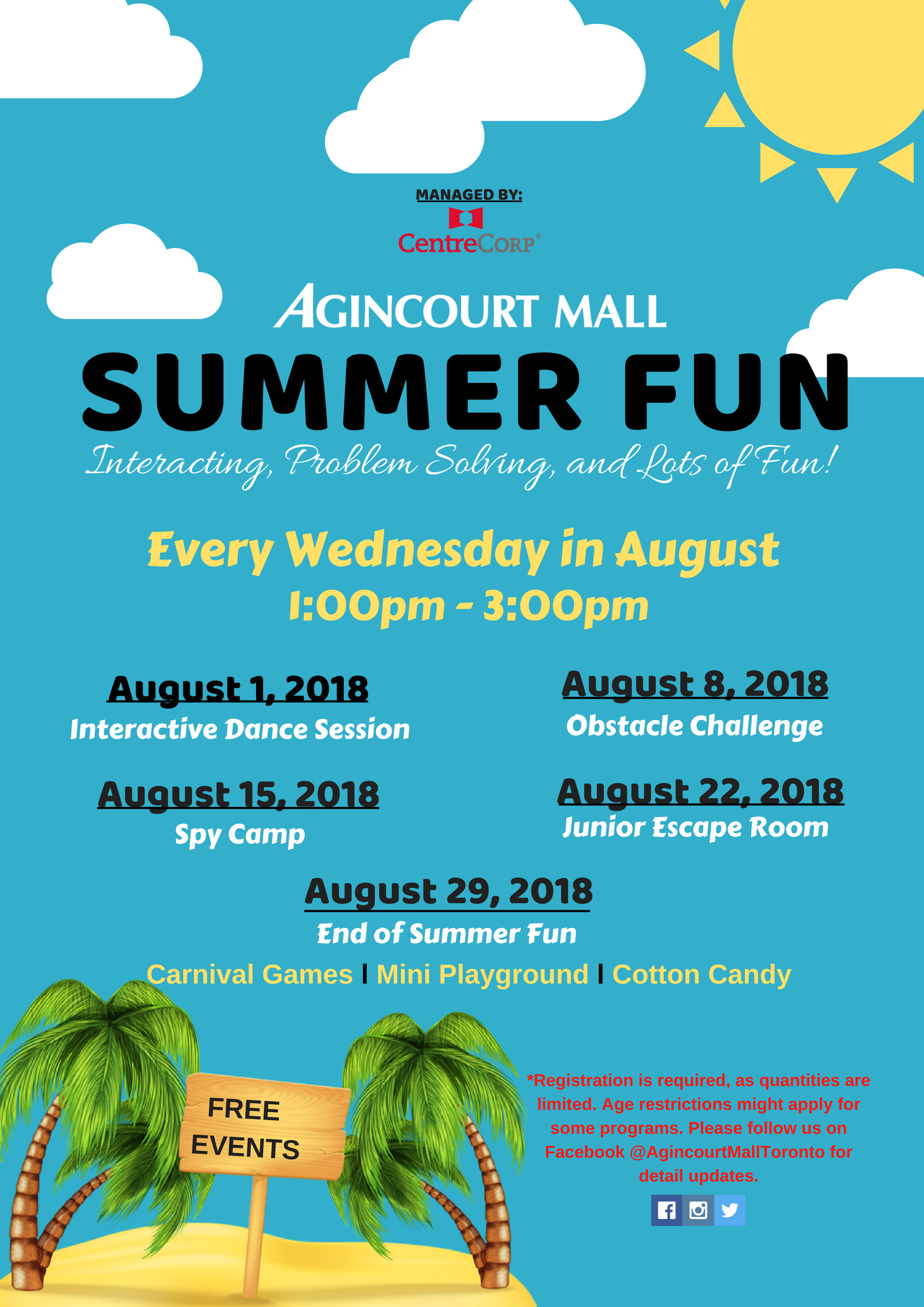 June 2018 EVENTS
Something exciting is coming to Agincourt Mall this Canada Day long weekend. Starting June 29, 3pm to July 1, 12am, a Canada day Night Market will be hapening at Agincourt Mall south parking lot. As this marks the first Asian night market ever hosted by Agincourt Mall, a opening celebration with multicultural performances will be held on June 29 from 7pm-9pm. "Movie Under the Stars" will be on June 30, 8pm-10pm, and come sing with the stars on July 1 from 6pm-9pm. All performances are free and we also have a kid's zone fit for all ages, so bring your children and come down to see us.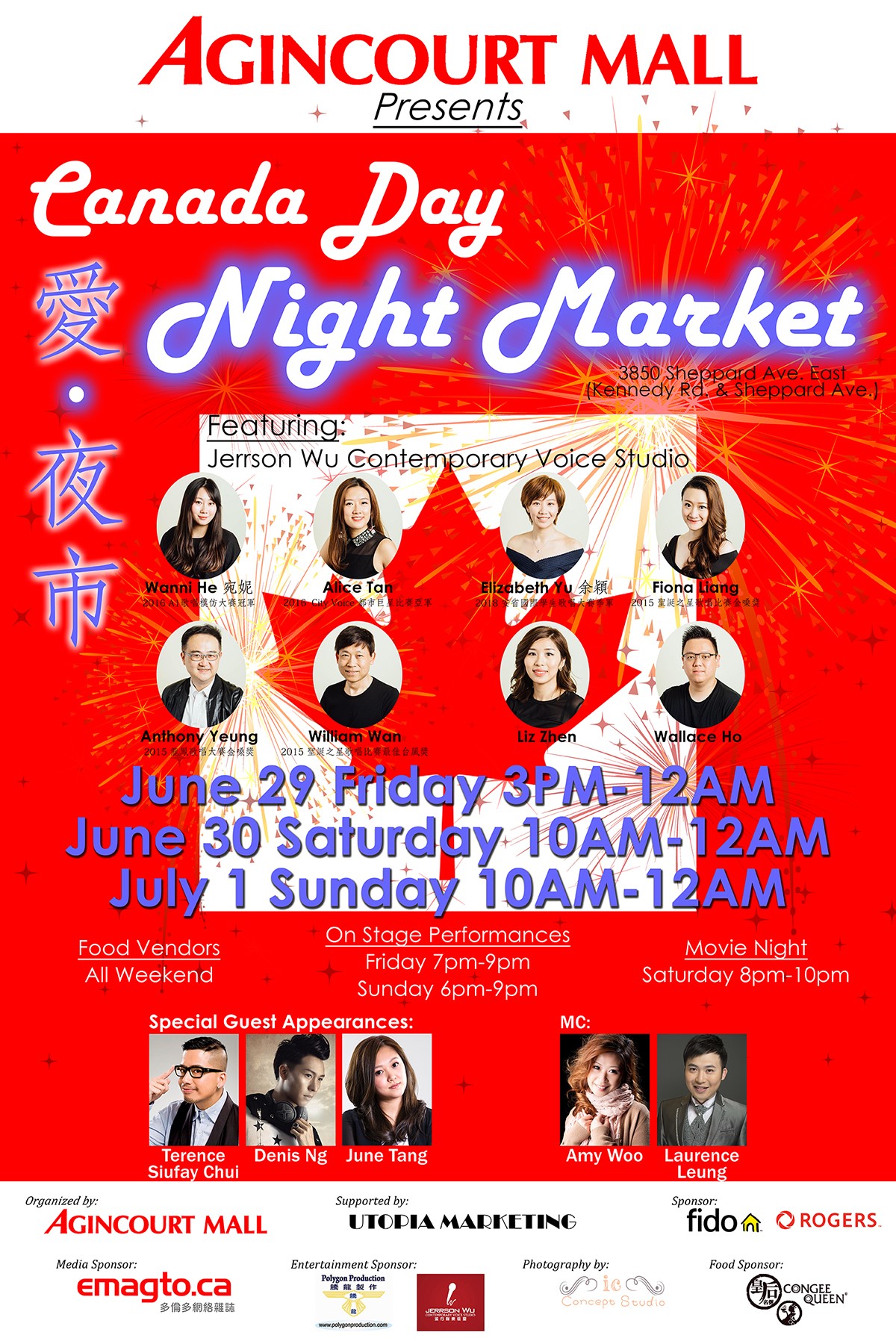 Come join us for a day of Arts & Crafts fun, and bring home a memorable DIY gift for Father's Day. The workshops are registration only, as quantities are very limited. We will also be setting up a FREE photo booth for everyone during the event, so for those who are not able to register or are in a rush to leave, please do step by the photo booth and take a photo home.